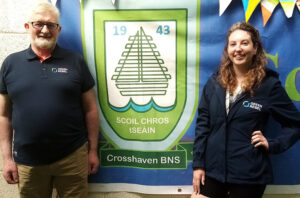 Crosshaven Boys National School has lent its support to Golden Globe Race participant Pat Lawless as he attempts to become the first Irish person to sail around the world non-stop.
Cork-based Green Rebel is Pat's main sponsor for the race.
Scoil Náisiúnta Chros tSeáin in Crosshaven has joined the Golden Globe Race (GGR) Schools Programme and will follow Pat as he prepares to set sail like it's 1968, by only using the same or similar equipment and technology to that of the 1968/69 GGR winner, Robin Knox Johnston. A carpenter and former fisherman from Kerry, Pat Lawless will be the only Irish man to take on the challenge this year.
Each contestant in the race is required to pair up with a primary school of their choice from their homeland, and one from France within the vicinity of Les Sables-d'Olonne who will create a cross-cultural link through the fascination of round the world sailing. The GGR Schools Programme ties in with the students' subjects of geography and history while popularising the vocabulary and practices of single-handed ocean racing. This allows the younger audience to become aware of the values of the race and their environmental surroundings.
Pat visited the school with Heather Farrimond from Green Rebel on the 22nd of June prior to the end of school term, to initiate the Golden Globe Race school mediation and pedagogical programme. Pat discussed the upcoming GGR, and spoke about his childhood dream of one day sailing the Atlantic and how he is preparing for the race in September. Many of the students had prepared some insightful questions to ask the Irish skipper.
Principal of Crosshaven Boys NS, Mr. Colm Lyons said, "It was a great opportunity for the 4th class students to meet Pat. He is a huge inspiration throughout the school and a great encouragement for them to keep up their activities outside of school. We are very proud here at Crosshaven NS to be selected as Pat's chosen school for the race, and we look forward to following his journey as he attempts to sail around the world."
As the only Irish competitor in this year's Golden Globe Race, Pat said, "It was great to talk to the students in Crosshaven. As many of them are avid sailors and have grown up around the sea, their support and encouragement means even more to me. Having the support from Crosshaven NS alongside Green Rebel, it will make my sail around the world that bit easier.
The Golden Globe Race takes place every four years and this year, the race is to set sail from the port of Les Sables-d'Olonne, France, on September 4th. Pat's journey on his boat named 'Green Rebel', can be followed online via the GGR website, and also tracked on the Green Rebel website, when the race begins.
15 July, 2022
This Article first appeared on afloat.ie