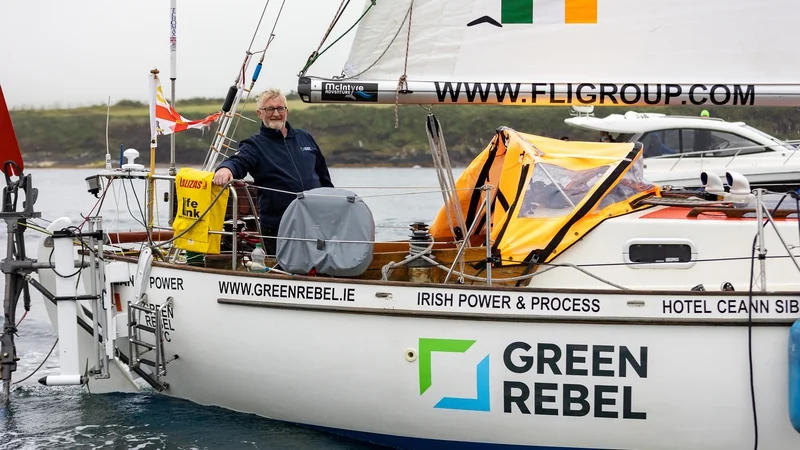 A Kerry sailor has departed Ireland to compete in the legendary Golden Globe Yacht Race, also known as the "voyage for madmen".
Pat Lawless is among a field of 18 international competitors attempting the treacherous challenge of sailing solo around the world without stopping.
The 30,000 nautical-mile voyage is widely regarded as the toughest and most dangerous race in sailing.
Keeping with the spirit of the first Golden Globe Yacht Race, competitors are restricted to using 1968 technology and will not be permitted to communicate with family or friends during the nine-month voyage.
This morning, the 66-year-old carpenter from Baile an Fheirtéaraigh in West Kerry departed Crosshaven in his 36-foot racing yacht, Green Rebel.
He will compete in a preliminary race from Spain to France, before arriving at Les Sables-d'Olonne in France for the start of the race on 4 September.
This is just the third Golden Globe Race in the history of the event, with the most recent taking place in 2018.
In 1968, Robin Knox Johnston became the first man to sail solo nonstop unassisted around the world. He was the only one of nine competitors to finish in that inaugural race. The rest either sank, retired or took their own lives.
"It's old-school sailing, compass and sextant, navigating with the stars and sun, no modern equipment, we can't use GPS or satellite," Mr Lawless said.
"It's sailing at its purest"
"I've always dreamed of doing something like this. My own late father was a great seaman and sailed around the world, but with stops. He is a big inspiration."
Mr Lawless will not be allowed contact family or friends during the nine-month voyage.
Competitors face a gruelling seven-to-11-month voyage, taking them past the five great capes, while they will not be permitted to land during the race.
"Over nine months solo, I've never done it. It's the unknown, but I think I'll be well able for it," he said.
"I'd say the doldrums will be the biggest challenge mentally, 300 miles each side of the equator."
"You can be lucky getting through, but if there is no wind it can be hot, humid and stressful. Mentally it can be a real struggle," Mr Lawless added.
During the race, Mr Lawless will tackle some of the world's most dangerous seas and oceans, including the treacherous Southern Ocean. In the last Golden Globe Race, held in 2018, only five of the 18 competitors managed to finish the race. Five of the 13 boats that failed, sank.
"Pitchpoling and breaking your mast is probably the main danger. That can happen in a storm if the boat capsizes and the force of going under can snap the mast. If that happens your race is over," Mr Lawless said.
"Getting rescued is then your big concern."
Mr Lawless has packed enough food and water to sustain him for the duration of the voyage.
"It's a long time to be alone. I'll miss my wife and family, the grandchildren," he said.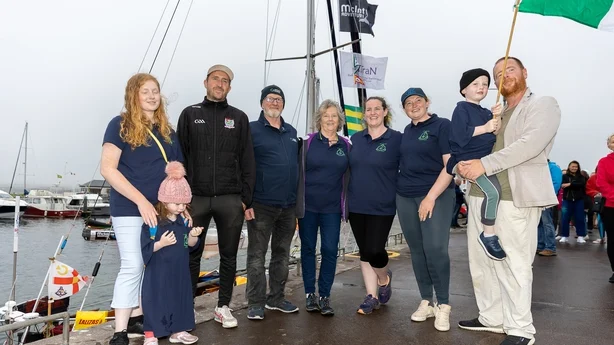 "I'll miss Corca Dhuibhne. I think Christmas will be particularly hard, a bit lonely," he added.
Sailing is very much in Mr Lawless' blood. His late father, Pat, was an experienced long-distance sailor, who completed a round-the-world voyage also.
"The joy in sailing for me is the pleasant isolation. It's the freedom of the ocean. It's you against mother nature, but mother nature is the higher power," he said.
"You have all the elements out there: wind, air, water and the boat is the earth, the solid part."
"You become very connected with your boat. You talk to her and she talks to you. You mind her and she minds you."
Today friends and supporters gathered in Crosshaven to witness Mr Lawless' departure, led to the mouth by a lone piper.
Earlier, Mr Lawless had sailed out of his home port in Daingean Uí Chúis, where family, friends and neighbours descended on the quay to see him off.
A flotilla of local boats accompanied him to the mouth of the harbour. Mr Lawless' daughter Helen said it was an emotional occasion for the family.
"We'll really miss him, especially the young ones. But we're just so proud of him that he is doing this. We are happy for him that he is realising his dreams," she said.
Mr Lawless has spent years preparing for the race, modifying his 36ft Saltram Saga, Green Rebel.
His wife Rita said it would be a difficult time but that he has the full support of all the family.
"You would of course be worried for him. He's never been alone for that length of time. Nine months is a long time," she said.
"I'll miss him, but I tell myself that I've been married to him for 40 years and that flew, so the nine months will fly by as well, please God."
Sponsored by an Irish wind energy company, Mr Lawless has spent the last three years preparing and planning for the race, modifying and re-enforcing his Saltram Saga, Green Rebel.
"It's been a huge undertaking, entering the race. Modifying and re-enforcing the boat was going to cost me in the region of €240,000," Mr Lawless said.
"I was going to have to remortgage the house, but thankfully we managed to do a lot of fundraising and it's great that Green Rebel came in as a main sponsor."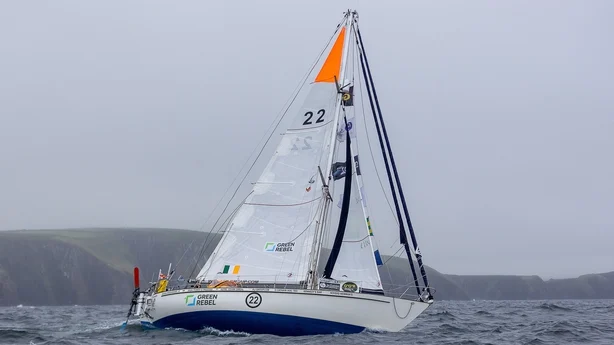 Mr Lawless is hoping to become the first Irish sailor to complete the iconic race. He believes a seven-and-a-half-month voyage is possible and if he succeeds in achieving that, it will give him an excellent chance of winning the race.
"There are some serious sailors in the race, but I think I have a great chance," he said.
"There were 32 competitors initially, but 16 have backed out."
"I might be a pensioner, but I think I'm at the right age, the right temperament. This race is about survival and arrival,
I plan to do both."
Seán Mac an tSíthigh, Wed, 27 July, 2022
This Article first appeared on RTE.ie